Measures Planned to Address Impact of COVID-19 On Vulnerable Populations
June 2, 2020
Measures Planned to Address Impact of COVID-19 On Vulnerable Populations
yelvertond
Tue, 06/02/2020 – 12:34
Promo Image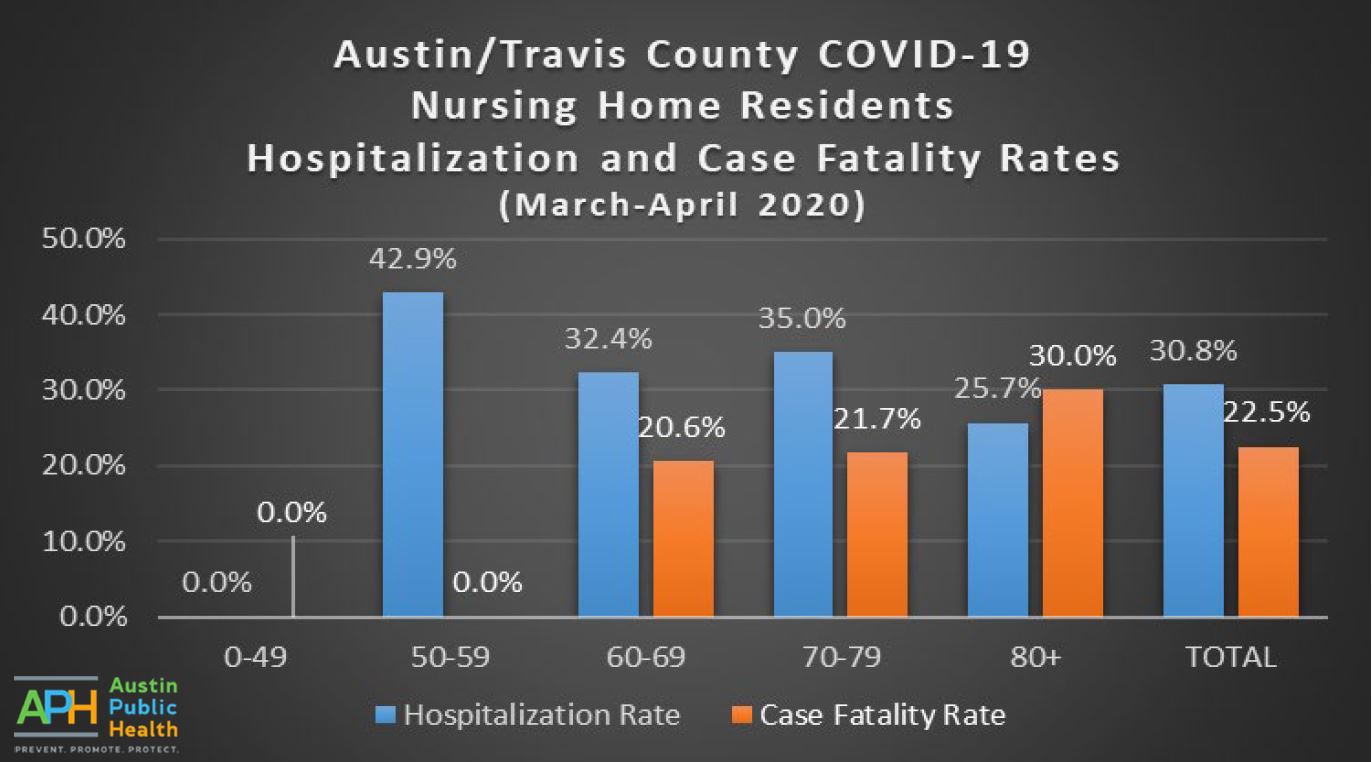 Preliminary data show long-standing disparities are a key factor in hospitalization and death rates.
Austin, Texas — Austin Public Health (APH) is planning to launch mobile and targeted testing sites in key locations in Austin-Travis County to help address the disproportionate impact of COVID-19 on vulnerable populations. 
 
These targeted test sites will complement work being done by community partners such as CommUnity Care to increase testing availability to individuals who have not been able to receive testing through previously-established programs. The aim is to fill the gaps in the community via targeted testing, mobile testing, cluster testing, home testing, and static testing sites.
 
The two key vulnerable groups identified by APH are residents of nursing homes and communities of color.
 
APH figures show that 30% of nursing home residents who contract COVID-19 end up in the hospital – compared with 15% of COVID-19 patients among the general population. And the case fatality rate for nursing home residents is 22% — compared with 1.7% for the general population (see graphs below).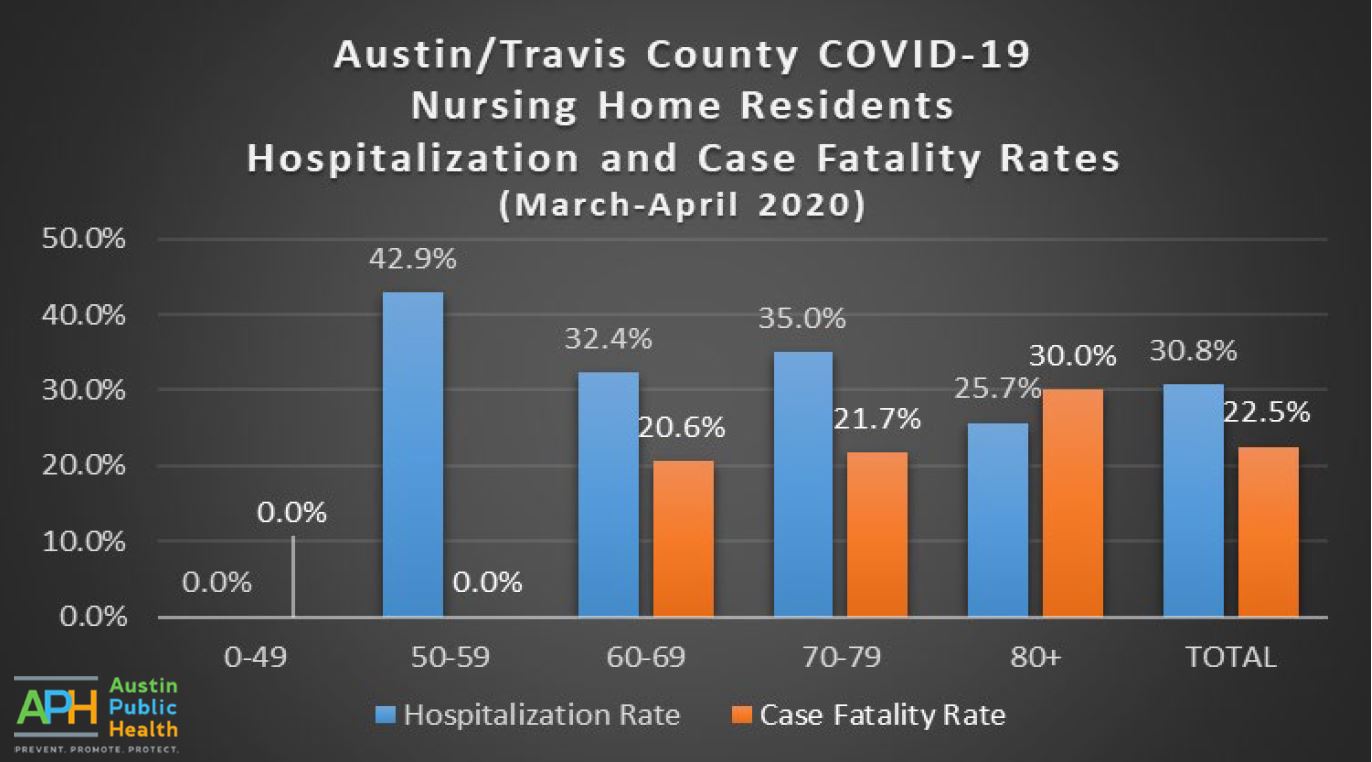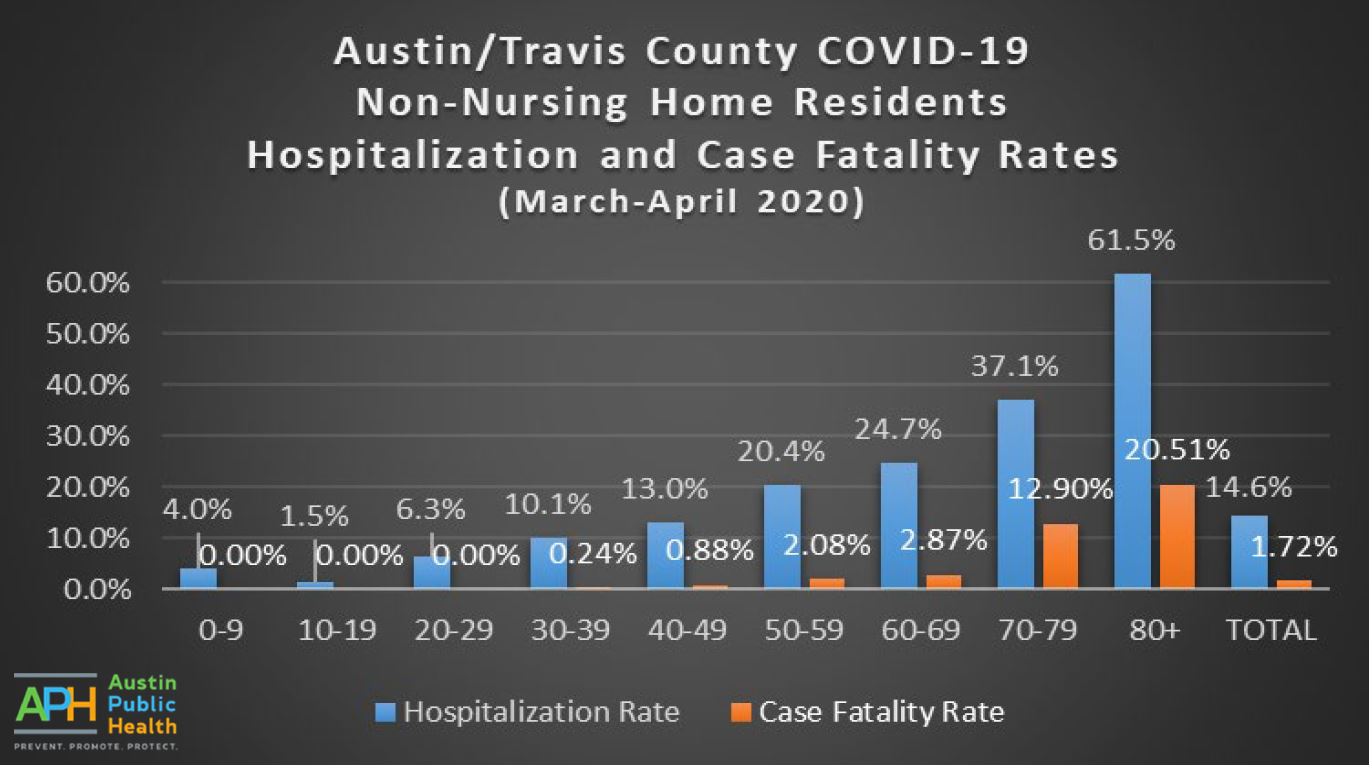 "COVID-19 has a devastating impact on our nursing homes and in our population over the age of 65," Dr. Mark Escott, Interim Health Authority for Austin-Travis County, said. This data conclusively demonstrates the critical importance of an overhaul of infection control procedures and nursing home design to mitigate the impact of COVID-19 as well as other communicable diseases."
 
With nursing home cases removed (see graph below), the preliminary data show a rate of COVID-19 hospitalizations in March-April 2020 was 12% for White Non-Hispanic individuals, 17% for LatinX individuals, and 18% for African American individuals. Similarly, the COVID-19 fatality rate was 1.9% for White Non-Hispanic individuals, 1.6% for LatinX individuals, and 5.4% for African-American individuals.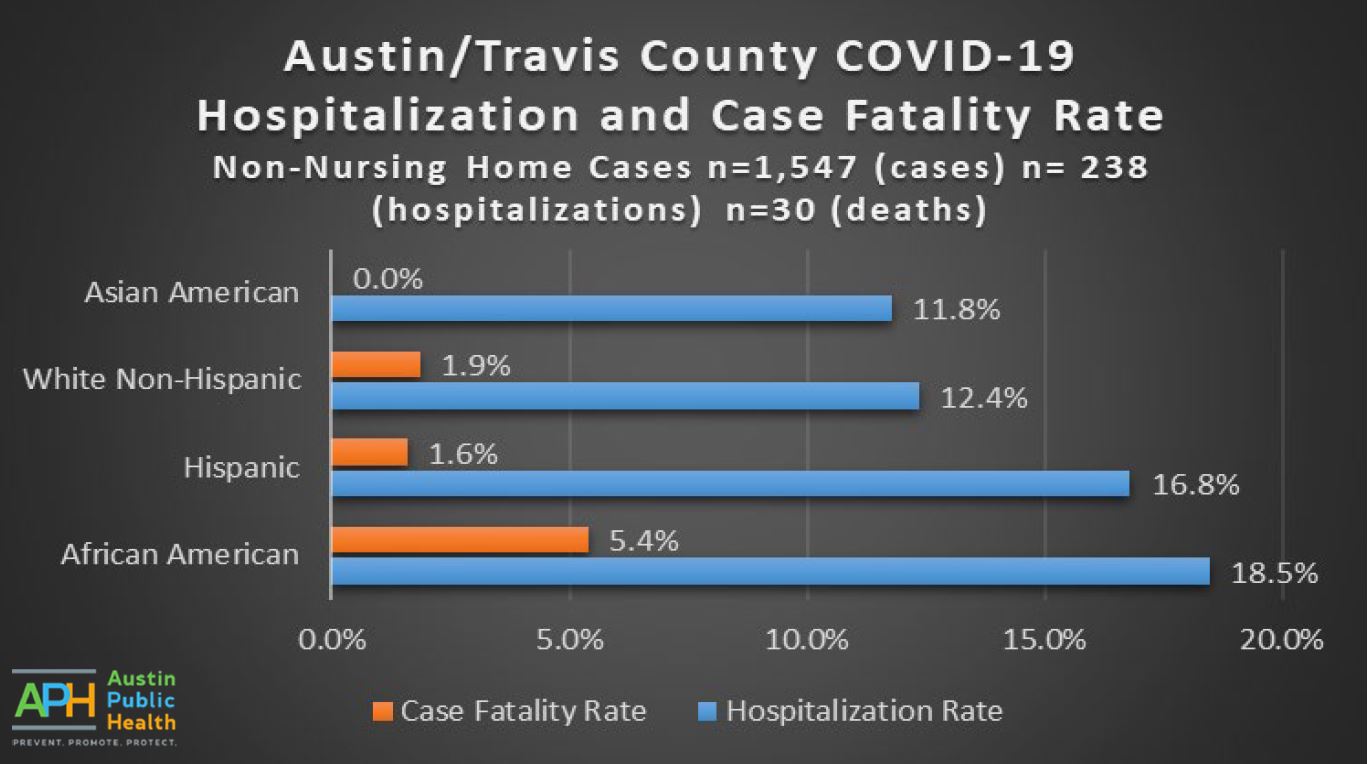 "These statistics are concerning and unfortunately, not unexpected given the history of disparities in access to healthcare and in the social determinants of health impacting communities of color. While this data is preliminary and the actual magnitude of the impact on these communities is not yet certain, we will not sit idly by watching and waiting until we reach scientific certainty before taking action," Escott said. 
 
COVID-19 aside, communities of color experience higher incidences of chronic conditions, such as hypertension, diabetes, and heart disease. They disproportionately work in low-paying or hourly-wage jobs that leave them unable to provide care or interrupt work, are more likely to be uninsured, live in medically underserved areas, and live in zip codes with lower life expectancy.
 
"People of color are over-represented in every characteristic that puts you at risk for complications from COVID-19," Brion Oaks, the City's Chief Equity Officer, said. "They are also over-represented in essential work and employed in positions that do not allow working from home. We may be in the same storm, but we are not in the same boat. We must focus on supporting our communities of color and other vulnerable populations as we work to respond to this crisis."
 
Additional factors can also make an individual more vulnerable to COVID-19, including immigration status, multigenerational housing situations, concern about losing wages if quarantine is required, limited transportation options, or employment where telework is not possible.
 
"As a community, we've done a relatively good job keeping our total number of COVID-19 cases at bay," Escott said. "But, our raw numbers should not distract us from the disturbing fact – supported by preliminary data – that communities of color are disproportionately impacted by COVID-19."
 
Escott added: "This message cannot fall on deaf ears. This disease is real and does not discriminate in who it infects. However, because of long-standing disparities in the social determinants of health, our communities of color are less likely to recover – physically and financially – from the impacts of this pandemic."
 
A Testing Group has been created to oversee all Austin-Travis County testing efforts and ensure a collaborative approach among all other testing entities with a focus on priority populations. It is the goal of APH to provide support to those already existing entities, and through continuous evaluation meet the testing needs of the community. The Testing Group, in conjunction with APH's Social Services Branch and Equity, are in the process of identifying key locations throughout Austin-Travis County where mobile and targeted testing will be stationed.
 
"The disparities we are seeing in COVID-19 impacts among Austin-Travis County's diverse communities are disturbing but sadly not surprising in the context of nationwide inequities in access to health care, healthy food, and income," Austin Public Health Director Stephanie Hayden said. "We must redouble our efforts to address these disparities, particularly in the eastern crescent of Travis County."
 
Hayden added: "Our testing strategy is intended to be flexible to rapidly respond to emerging community needs to mitigate the spread of COVID-19 and reduce the impact on high-risk populations. It is going to take a community-wide effort to increase testing in targeted communities."
 
Austin Public Health, in addition to mobile and targeted testing, is also working on community-informed communications and engagement strategy to target these vulnerable populations.
The City is planning a conversation with communities of color currently scheduled for the morning of Saturday, June 13, to discuss ways to improve health outcomes among our most vulnerable populations. More details on this forum will be forthcoming.
 
"It will take more than testing to alleviate the unequal health outcomes in vulnerable Austin populations," Hayden said. "We will have to continue this effort on a broader scale, with a focus on strengthening communities across Austin. We will also be working to provide targeted interventions, health education, face coverings, access to isolation facilities, and basic needs assistance."
 
Individuals can see if they qualify for a free COVID-19 test by completing an online assessment at AustinTexas.gov/COVID19 or by calling (512) 972-5560.
 
COVID-19 data can be found on the COVID-19 dashboard.