Mayor Walsh joins fellow Bloomberg American Cities Climate Challenge winners to release new Climate Action Playbook
December 31, 1969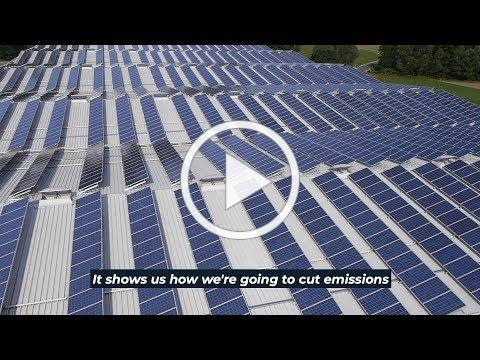 Mayor Walsh attends the C40 Mayors World Summit
COPENHAGEN, DK – Thursday, October 10, 2019 – Today at the 2019 C40 World Mayors Summit, Mayor Walsh joined Mike Bloomberg and Mayors from across the country to release the American Cities Climate Challenge Climate Action Playbook, a strategic brief to accelerate and deepen climate action in cities. The Playbook, informed by actions that the City of Boston is already implementing through the American Cities Climate Challenge, provides a roadmap for cities throughout the globe to reduce citywide emissions and create healthier, more resilient communities. 
If the 100 largest U.S. cities took on the strategies outlined in the Playbook, their total combined emissions would drop by 28.5 percent, meeting their share of the U.S. national target of reducing emissions by 26-28 percent by 2025, the goal set under the Paris Agreement. This work would result in carbon reductions of 224 million metric tons, the equivalent of taking 47.5 million cars off the road for a year, or shutting down 57 coal fired power plants for one year.
"As a coastal city, Boston is on the frontlines of this global crisis and we understand the urgency to act. It's never been more important for cities to lead on climate and Bloomberg Philanthropies has been and continues to be a critical partner in this work," said Mayor Walsh. "This week, Boston released its updated Climate Action Plan, a roadmap to significantly reduce our emissions, especially in our buildings and across our transportation sector. Boston is proud to join with our partners as we continue to take major steps toward our ultimate goal of carbon neutrality by 2050, and honoring the commitment we made through the Paris Agreement."
"Through the Bloomberg American Cities Climate Challenge, 25 major U.S. cities have taken ambitious action to fight climate change, and they're already seeing strong results," said Michael R. Bloomberg, C40 Board President, UN Secretary-General's Special Envoy for Climate Action, Founder of Bloomberg Philanthropies and Mayor of New York City 2002-2013. "Now, our Climate Action Playbook will help spread their successes to other cities across the U.S. and the world, drawing on the proven policies and programs that are reducing emissions, strengthening infrastructure, and improving public health. Cities are vital leaders in the global climate fight – and we're giving them the tools to make a difference."
As a part of the American Cities Climate Challenge, the City of Boston is working with world-class experts from leading organizations, including the Natural Resources Defense Council and C40, to meet its ambitious climate goals, ramping up action specifically in the two highest-emitting sectors in cities: transportation and buildings. The nine cities that presented the playbook — Austin, TX; Boston, MA; Honolulu, HI; Los Angeles, CA; Philadelphia, PA; Portland, OR; San Antonio, TX; Seattle, WA; and Washington, DC — are all among the 25 winners in the Climate Challenge. 
Some of the most effective strategies outlined in the Playbook include: initiatives to set benchmarking and performance policies for building energy use; decarbonize buildings; improve public transit speed, reliability and user experience; expand urban pedestrian and micro mobility access; procure renewable energy for municipal demand; and promote EV adoption through infrastructure and education. 
Earlier this week, Mayor Walsh released an update to Boston's Climate Action Plan, accelerating action towards carbon neutrality and putting Boston on track to meet the goals laid out in the Paris Climate Agreement. The updates to the plan will significantly cut carbon emissions from Boston's buildings — the single greatest source of emissions citywide — and Boston will take immediate action to require new City-owned buildings to lead by example and be zero net carbon. The plan sets Boston's priorities for the next five years on carbon neutrality, with a goal of making Boston carbon neutral by 2050.
Citywide carbon emissions are currently down 21 percent — a 4 percent decrease from the previous year — and are on track to meet Boston's carbon target for 2020, a 25 percent greenhouse gas reduction. Local municipal operations in fiscal year 2017 were already 41 percent less than 2005 levels, far exceeding Boston's goal set for 2020. 
Boston continues to be one of the world's leading cities committed to urgently pursuing high-ambition climate action. As a leading city on climate action, Boston is already driving down emissions and preparing for sea level rise, extreme temperatures and storms. At the same time, Boston continues to be ranked the most energy efficient city in the country. The top ranking highlights the success of programs such as Renew Boston Trust, Community Choice Energy, and Boston's long-standing building energy benchmarking program.
About the Bloomberg American Cities Climate Challenge
Recognizing that cities account for more than 70 percent of global carbon emissions, the Bloomberg American Cities Climate Challenge was formed with an investment of $70 million to enhance the work already being done by mayors across the U.S. and to support cities in the fight against climate change. The Bloomberg American Cities Climate Challenge aims to go beyond the theoretical and scale up high-impact urban climate solutions that are already proven to succeed – specifically, from the buildings and transportation sectors. World-class partners for the Bloomberg American Cities Climate Challenge will be led by the Natural Resources Defense Council and Delivery Associates. The Bloomberg American Cities Climate Challenge is part of Mike Bloomberg's American Cities Initiative, a suite of more than $200 million in investments to strengthen city halls and advance critical policies.
About Bloomberg Philanthropies
Bloomberg Philanthropies invests in 510 cities and 129 countries around the world to ensure better, longer lives for the greatest number of people. The organization focuses on five key areas for creating lasting change: Arts, Education, Environment, Government Innovation, and Public Health. Bloomberg Philanthropies encompasses all of Michael R. Bloomberg's giving, including his foundation and personal philanthropy as well as Bloomberg Associates, a pro bono consultancy that works in cities around the world. In 2018, Bloomberg Philanthropies distributed $767 million. For more information, please visit bloomberg.org or follow us on Facebook, Instagram, YouTube and Twitter.
About NRDC
The Natural Resources Defense Council (NRDC) is an international nonprofit environmental organization with more than 3 million members and online activists. Since 1970, our lawyers, scientists, and other environmental specialists have worked to protect the world's natural resources, public health, and the environment. NRDC has offices in New York City; Washington, D.C.; Los Angeles; San Francisco; Chicago; Bozeman, Montana; and Beijing. Visit us at www.nrdc.org and follow us on Twitter @NRDC.
###