City of Austin Independence Day Holiday Hours of Operation
July 1, 2020
City of Austin Independence Day Holiday Hours of Operation
tatea
Wed, 07/01/2020 – 14:11
Promo Image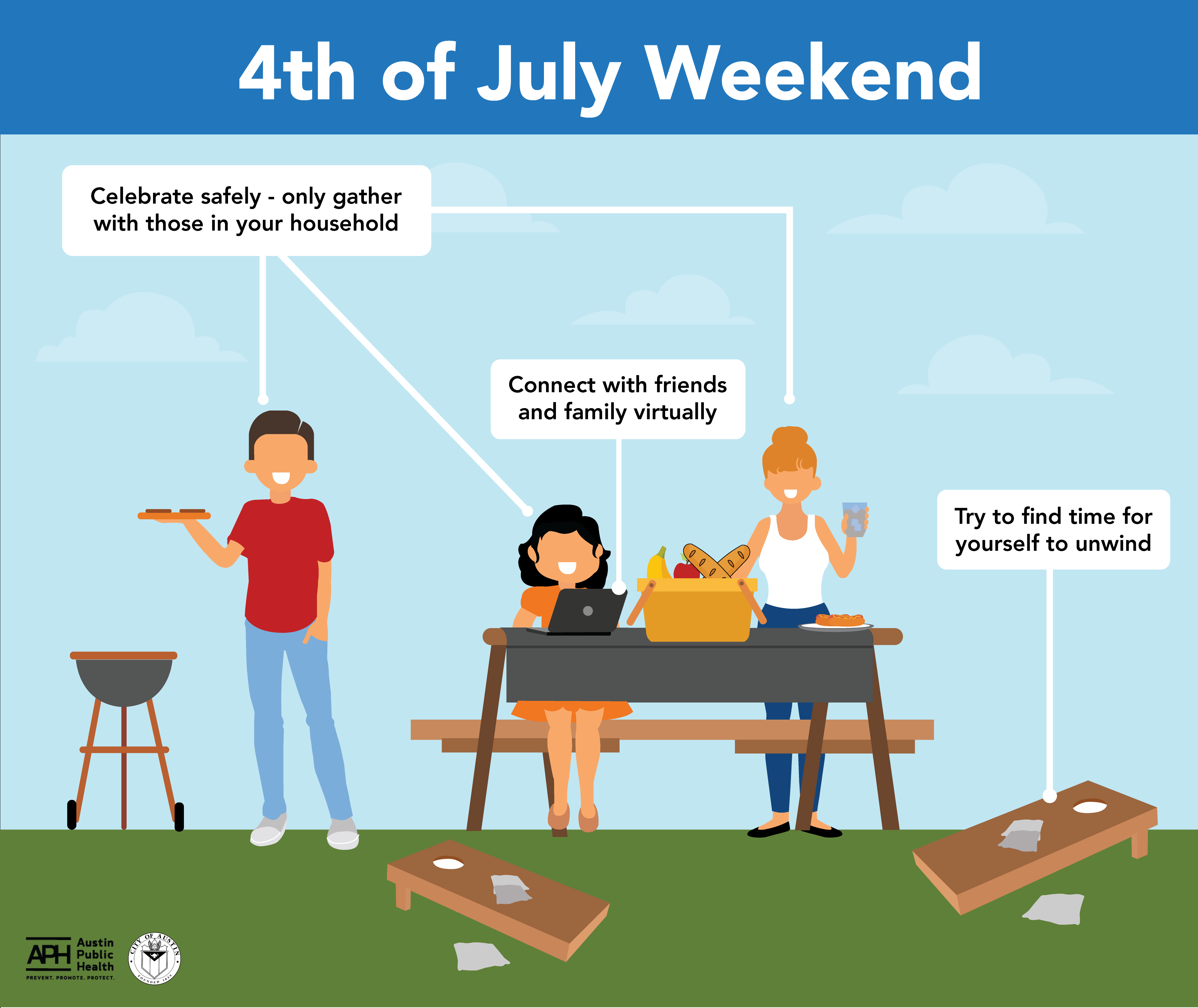 Community encouraged to stay home this weekend to slow spread of COVID-19
City of Austin administrative offices and other municipal facilities will be closed on Friday and Saturday, July 3 and 4, in observance of Independence Day.
Trash, recycling, and compost collection for Austin Resource Recovery (ARR) customers will remain on schedule on Friday. The Recycle and Reuse Drop-off Center will be open on Friday, by appointment only, and will be closed on Saturday.
All Austin Public Library locations, Recycled Reads Bookstore, and the Austin History Center will be closed on both July 3 and 4.
The Austin Animal Center will be closed Friday, July 3 but will open on Saturday, July 4, by appointment only.
Prompted by an increase in COVID-19 cases and hospitalizations, the City of Austin will close all parks and recreational facilities from Friday, July 3 through Sunday, July 5. This includes all City parks, as well as recreational facilities (e.g. pools, golf courses, tennis courts, boat ramps, recreation/cultural centers, museums, Austin Nature & Science Center, Zilker Botanical Garden, preserves, etc). Barton Springs Pool and Deep Eddy Pool remain closed until further notice. For a full listing of park closures, visit austintexas.gov/parkclosures.
The annual H-E-B Austin Symphony July 4th Concert and Fireworks event at Vic Mathias Shores has been cancelled due to COVID-19.
Austin Public Health is encouraging people to stay home this weekend, to help slow the spread of COVID-19. At all times the community is urged to:
Practice social distancing 
Wear fabric face coverings in public 
Cover coughs and sneezes 
Wash hands often 
Avoid touching your face 
Clean commonly-touched surfaces.
Dr. Mark Escott, interim health authority for Austin-Travis County, said: "We have a great tradition of celebrating our independence in this country on the Fourth of July. We cannot afford the missteps right now. Not this weekend. The consequences will be dire for us. It will mean that we are going to exceed capacity in our hospitals. It means that we are going to have people die who don't need to die. And it will also mean that we're going to have a month to reflect on that because if this trend continues, I'm going to have to recommend to Mayor Steve Adler and Judge Sam Biscoe that we reenter a stay-home order, and that's not where we want to be. But now is the time. Right now, today, this weekend, the next several weeks are critical for us, to make real changes, to protect ourselves, protect our families and protect our community."