BOSTON – Friday, August 9, 2019 – Mayor Martin J. Walsh today joined Boston EMS to celebrate the graduation of 15 Emergency Medical Technician (EMT) recruits, as well as four promotions, in a ceremony at Faneuil Hall. This graduating class will be assigned to 911 ambulances, strengthening the City of Boston's emergency medical services (EMS).
"I want to congratulate this class of graduates on joining the ranks of Boston EMS, a proud and historic first responder family," said Mayor Walsh. "Becoming an EMT is a noble calling of public service. During a crisis, our EMTs and paramedics are often the first on the scene and the first to offer immediate help when people are most vulnerable and hurting. We cannot thank them enough for their service to our City."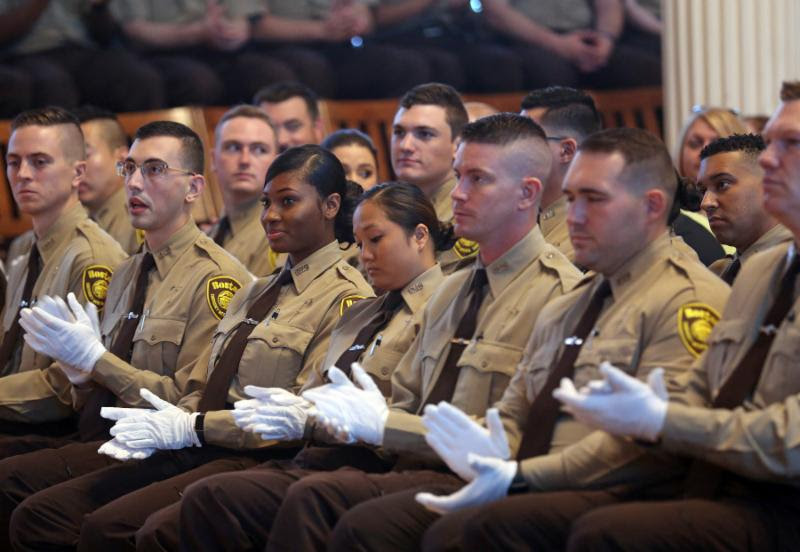 Today's ceremony in front of family, friends and colleagues formally acknowledges 15 recruits' successful completion of a rigorous post-hire training program for EMTs at Boston EMS. The recruits, already state-certified EMTs prior to hire, completed an additional 27 weeks of classroom and field training. Known as "Recruit Class 2019-1" recruits were trained in a variety of emergency situations, including life-threatening emergencies, transportation accidents, recovery services, hazardous materials exposure, human trafficking and mass casualty incidents.
"Being an EMT or a paramedic on the streets of Boston takes heart, passion and dedication. Today's EMS recruits have all of that and more. I am proud to be here today to celebrate their accomplishments and officially welcome them to the Boston EMS family," said Boston EMS Chief Jim Hooley.
The graduating recruit class responded to nearly 2,400 calls during their training across all neighborhoods of Boston. Those emergency incidents included cardiac arrests, motor vehicle accidents, childbirths, shootings, stabbings, overdoses and more.
"Our EMTs and paramedics are called upon to help people on the worst and most frightening days of their lives," said Boston Public Health Commission Executive Director Monica Valdes Lupi. "I want to thank all of our EMT recruits for choosing to be on medicine's front line not only delivering excellent pre-hospital care but also protecting the safety and health of the public, particularly the most vulnerable."
With guidance from veteran EMT field training officers, recruits were not only prepared to provide care to patients, they also now understand the level of care, clinical excellence, and professionalism expected of Boston EMS EMTs.
Boston EMS is one of the busiest municipal EMS providers in New England, responding to more than 125,000 emergency medical incidents per year. As a bureau of the Boston Public Health Commission (BPHC), Boston EMS is committed to serving Boston's residents through clinical excellence, emergency planning and preparedness, and community outreach.
"Today's graduates are now part of a larger community of first responders and public servants in Boston whose work is aimed squarely at being there whenever the call comes for help," said Chief of the Mayor's Office of Health and Human Services Marty Martinez. "I offer my sincere thanks and my congratulations to our new EMT graduates. They're answering one of the highest calls to public service and will help bring compassionate care to the people of Boston."
In his FY19 budget, Mayor Walsh prioritized funding for 20 additional EMTs, increasing the number of budgeted full-time EMS providers from 375 to 395 for the City of Boston. 
Mayor Walsh's FY20 budget includes additional resources to promote diversity and recruitment as well as resources to expand the capacity of Boston EMS's Community Assistance Team, also known as Squad 80. Squad 80 is a two-person team that travels in an SUV and answers calls where patients have a low frequency of being transported to the emergency room. Squad 80 frees up city ambulances, making more ambulances available for priority calls that need to get patients to the hospital. It also connects people to our recovery or homeless services and other city programs.
About Boston EMS
Boston EMS is the primary provider of emergency medical services for the City of Boston and is a nationally recognized leader in the field of pre-hospital emergency medicine. The department leverages the latest advances in both medicine and technology to bring high-quality, compassionate care to the people of Boston. Boston EMS also plays a key role in the City's emergency preparedness efforts and provides community programming designed to educate the public about important health and safety topics.
About the Boston Public Health Commission
The Boston Public Health Commission, one of the country's oldest health departments, is an independent public agency providing a wide range of health services and programs. It is governed by a seven-member board of health appointed by the Mayor of Boston. Public service and access to quality health care are the cornerstones of our mission – to protect, preserve and promote the health and well-being of all Boston residents, particularly those who are most vulnerable. The Commission's more than 40 programs are grouped into 6 bureaus: Emergency Medical Services; Child Adolescent & Family Health; Community Health Initiatives; Homeless Services; Infections Disease; and Recovery Services.
###